Why Choose Zatera?
Workers Compensation Revenue Recovery (Federal and State)
OON (Out-of-Network) Health Claims Recovery
Auto/Liability Claims Recovery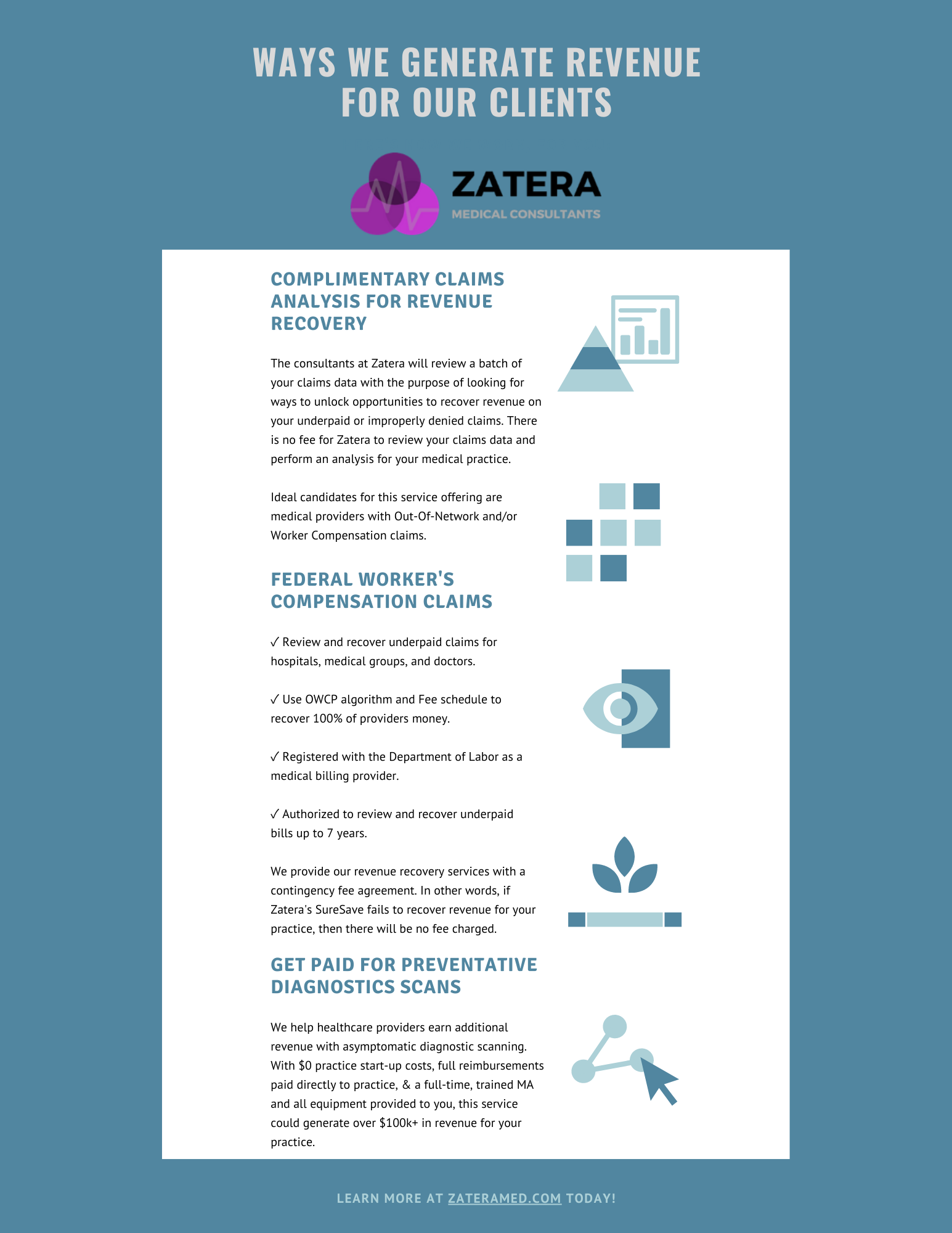 With decades of combined experience, our team at Zatera Medical Consultants partners and builds relationships with carriers and medical service providers to maximize reimbursements. We handle the hassle and overall aggravation associated with managing claims. Hire us to be the expert in managing your revenue recovery so you can focus on your core business. Our robust, streamlined SureSave™ service package includes:
Dispute Resolution
Appeals
Review of Payment Accuracy
Accurate Claim & Medical Record Submissions
Confirmation of Payer
Verification of Liability
Follow-up and Collection Management
And More
Specifically among all of the other services we offer, proper management of worker's compensation accounts requires an extraordinary amount of time, a unique set of skills and a commitment from those in leadership positions to handle and oversee everything in order to obtain satisfactory results. Complexities are abundant: managing state-specific laws, rules for reimbursement and industry-wide regulations will often translate into delayed reimbursements, unpaid or underpaid claims.
No PHI required for expedited processing of recovery.
Zatera Medical Consultants is experienced and available for revenue recovery for post-paid audits among other specialized recovery efforts. For more details on how we can assist your unique needs, please contact Zatera today.
Get Expert Claims Management and Revenue Recovery with Results, Guaranteed. Further, Our Fees are Fully Contingent on Recovery.
The SureSave™ service suite offers a "no-savings / no-fee" guarantee. We have such confidence in our ability to recover revenue for our clients that we have decided to make our service charges 100% contingent on recovery. What does this mean to you? Simply put: if there's no revenue recovered by Zatera, you won't be charged a dime for our services. That's our promise to you and should stand as affirmation to the conviction we have to get the job done and done right.
Ready to Learn More?
Ready to get started with a risk-free solution toward revenue recovery? Complete the contact form below and our associates will review your needs and promptly respond with an action plan for revenue recovery.